Daisuke Maeda
Mobile Unit Manager, Global Business Division, Adways
How many non-Japanese games have found success in Japanese market, really?
To answer this question, I checked a number of foreign companies in top 100 AppStore and GooglePlay sales as below (read my last article for more).

Japan has a massive opportunity for mobile games but is a very unique market of which Japanese companies account for almost 90% of the overall revenue. Foreign companies are still finding it hard to find the way to survive in Japanese market.
In today's article, I would like to highlight the foreign companies which account for 10% of the market share and analyze how they have made a success.
Success factor 1. App Size
In Japan, we barely use wireless network except when at home. Even at work place (except at those internet companies like us), wireless network is not normally available.
Private use of free wireless network in public and tourist facilities.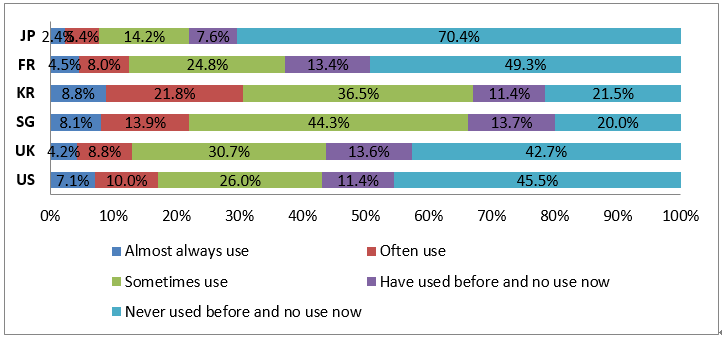 (Source: 2014 Joho Tsushin Hakusho -White papers on Telecommunications-)
One of the biggest reasons why public wireless network is not so popular in Japan is the personal authentication systems that network providers are required to implement. According to the wireless network business guidelines provided by Ministry of Internal Affairs and Communication of Japan, those network providers are subject to disclose identification information of the user upon occurrence of any cyber crimes using free public network. Thus, in order to prepare wireless network environment in Japan, providers would take money to adopt the authentication system, while the users would take time to authenticate themselves. This has made a slow growth of supply and demand in Japanese free wireless network environment.
Moreover, in Japan, most of smartphone users make a contract with mobile carriers and subscribe for 1 or 2-year plan. They will usually pay the fixed cost of the phone each month and then the amount of calling and using data for on top of that. The internet connection speed provided by mobile carrier is powerful enough for daily use, so wireless network will not be necessary unless they encounter a moment that would consume a large amount of mobile data such as downloading a big size app and watching 2-hours movie.
Mobile Data Subscription: Fixed vs Pay-as-you-go Model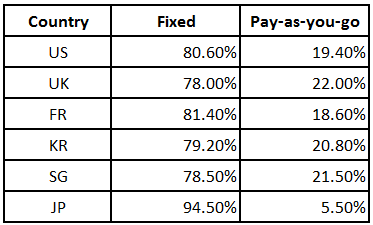 (Source: 2014 Joho Tsushin Hakusho -White papers on Telecommunications-)
Then, how often people use wireless network at home? Even though usage frequency is different, the graph below shows about 70% of Japanese users answered yes for use of wireless network at home.
Use of free wireless network at home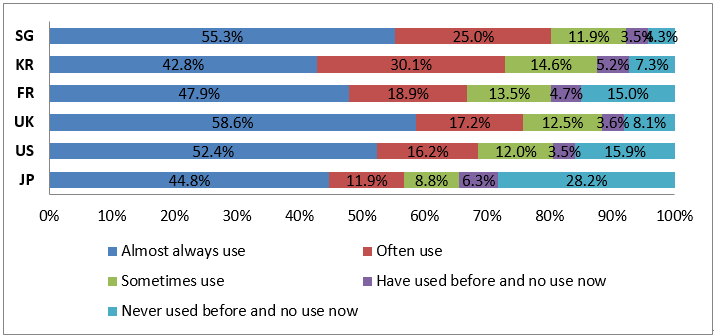 Having considered this slow spread of free wireless network in public, it is a bit reckless to launch an over 100MB app. Now, let's take a look at how much real loss would be generated in app promotion results.
Reward promotion results of 2 different apps on GooglePlay
(Title A: Less than 100MB, Title B: More than 100MB)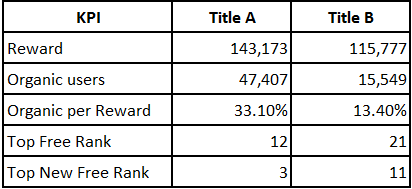 This is a comparison of reward promotion results of 2 different apps on GooglePlay. The size of title A is less than 100MB while that of B is more than 100MB. By the way, title B is the foreign game app ranked in Top 100 GooglePlay sales in July 2016 (Check my last article for more). In order to have a good ranking for your app, a certain amount of downloads and traffic in a short time are necessary but that is not all. The cycle of reward promotion, increase in ranking, increase in exposure, increase in organic users, and then increase in ranking is the best way to push your app ranking even higher. Especially number of organic users has an implication for ranking. To be exact, there is also another factor besides this cycle, but I will talk about it some other time.
Looking at the result table, organic per reward made a difference of 250% between 2 apps. This also resulted in ending up the CPI with 250% difference. The app size does matter and bring a difference in any type of promotion results, not only for reward promotion. This should be taken into consideration when you make an app promotion plan.
Suggesting a solution to this size problem, you can make an app smaller than 100MB in the first place and ask users to download an additional file as they make their way in game. In fact, title B put this strategy into practice and made it a success.
Timing of app update is also very important to consider. Those users who have became active users once would not give up updating the app even though a file size is somewhat big because they would not want to waste their time and money spent before this. However, if update requires a download of relatively big file, it is better to avoid the time when users are not at home. This is because, as mentioned earlier, public wireless network is not everywhere in Japan. If they are outside, they would only need to rely on mobile data and this sometimes cause a failure to download. For those Japanese workers living in Tokyo city, the average travel time to work is 60 minutes. Normally they start working at 8 or 9am so the best timing of app update would be around 7 in the morning before they leave for work or after 6pm when they go back home.
Next, I will give you tips for making creatives- the second success factor to win in Japanese market.