Bumpei Tateno
Country Manager of Thailand branch, Global Business Division, Adways

Facebook like in any other country is a strong player in Internet advertising. In fact, Facebook has 38million users which astonishingly are equivalent to 56 % of the population. Consequently, Facebook's App-Install Ad is a crucial advertising plan in terms of both quantity and quality. There are few ad networks who establish their local branches, Google Display Network holds a strong standing ground by having majority of the orders.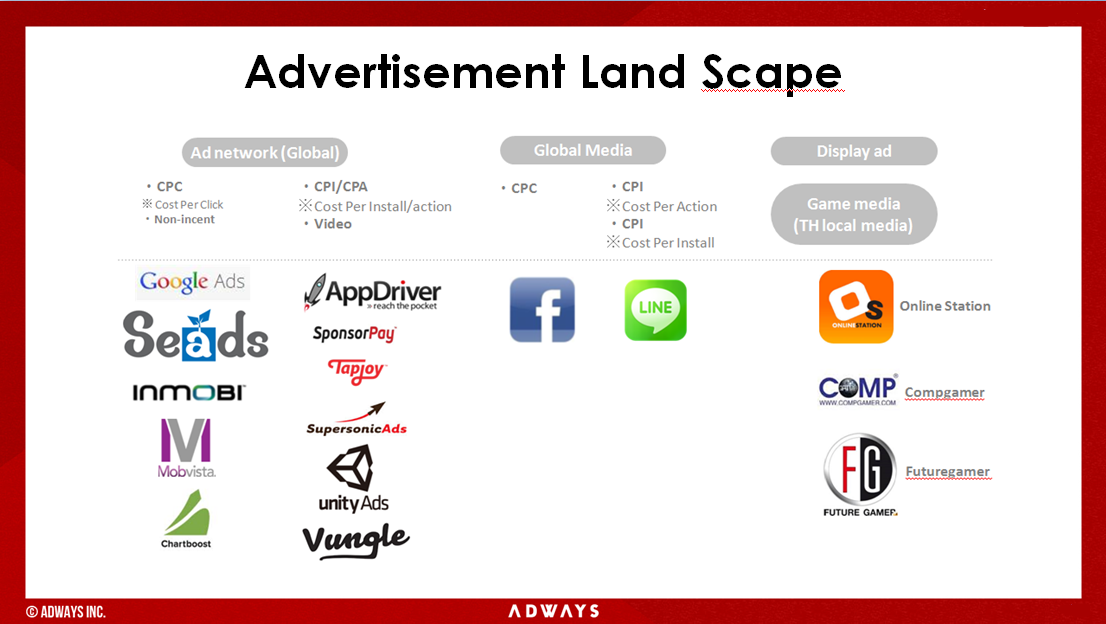 Finally, I would like to mention Adways contribution and achievements in Thailand.
Adways has its branch in Bangkok for 3 years now and has been working on advertising and media specializing in smartphone applications since the early days of application marketing. Through these years, our service called AppDriver, one of Japan's largest reward ad networks, has also gained a strong presence in Thailand. Moreover, Seads, Adways' non-incentive CPI network, has made a partnership with a prominent Thai mobile carrier to keep generating quality traffic.
Adways has managed to gain its achievements and know-how by having a local base in Thailand and we are very eager to share the knowledge with all the clients for their success. As we have data that cannot be disclosed here, please contact us individually for further information and assistance.
ADWAYS LABS (THAILAND) CO., LTD.